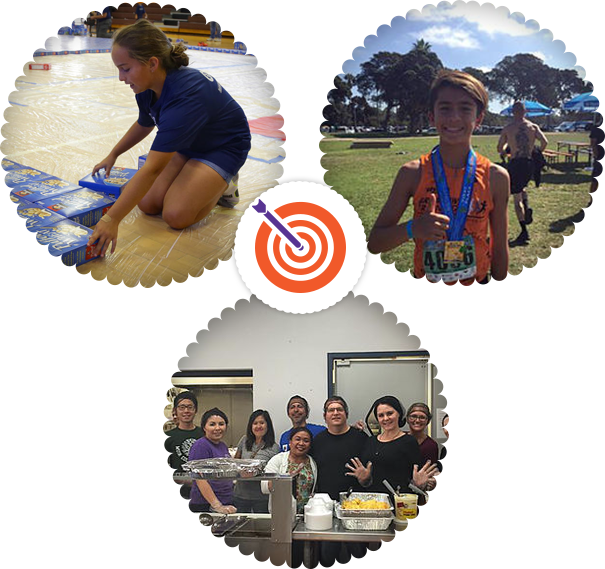 Our Mission
We want to help children and their families give back to their communities in a meaningful way. To do this, we work with charitable organizations to develop programs that are specifically meant to engage children from five years and up so they can be introduced to the concept of charitable work early in their lives.
Very few charities have programs that are aimed at children and their families, which makes it difficult for people with young children to perform charity work. We believe if you have small children, you shouldn't have to find a babysitter when you want to do something to give back to your community. You should be able to bring them along and do it together.
Read More
Our Story
Kids4Community was founded by young community organizer Kenan Pala with the help of friends and family. Kenan's primary goal was to encourage other children his age and younger (like his brother) to get involved with their communities.
Kenan's first major charitable project was setting the Guinness World Record for largest mosaic created using cardboard boxes in 2016. Together, he and his fellow students did a food drive to collect cereal boxes and then put them together to set a record that is officially recognized by Guinness using cereal boxes destined for a local food bank.
Read More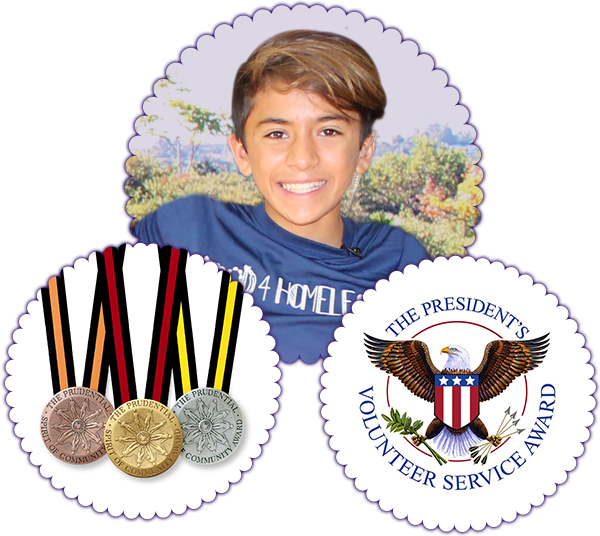 Top Volunteer Award for Middle Schoolers in California and President's Volunteer Service Award
Middle Level State Honoree: Kenan Pala Nominated by Francis Parker Middle School in San Diego. Kenan, a seventh-grader at Francis Parker Middle School, launched an initiative to benefit homeless people by raising money for local shelters, coordinating meals each quarter at shelter kitchens, and organizing a record-setting cereal donation event.
Our Programs
Getting involved with Kids4Community is easy. There is a program that can fit anyone available. Here are just some of the examples:
if you are interested in volunteering or donating supplies please look at our upcoming events.
Our Work
Doing a food drive with the students at Francis Parker School and using the collected cereal boxes to set the Guinness World Record for largest mosaic created using cardboard boxes.
Read about our world record setting mosaic here
Partnerships
We are always looking to partner with new nonprofit organizations and schools.
Please fill out our partnership form and we will review it and get back to you as
quickly as we can.

We can work with any organization as long as your cause helps families and
communities that surround them. Please fill out the below form if your
organization would like involve families with younger children and increase your
reach with this younger and dynamic group of individuals.

One of us will contact you within 2 business days.
Membership
We are always looking for people to join our 100% free membership program. Fill out our sign-up sheet to join our volunteering programs!
June 22nd Dinner Serving
On the evening of June 22nd, 2018, Kids4Community volunteers gathered together to serve dinner to 50 people housed at a shelter called Interfaith Community Services. The dinner which was served consisted of fried chicken, bread rolls, cookies, juice, vegetables, potato salad, rice, etc. and the people housed at Interfaith loved it! After the dinner serving …
Read more
May 4th Dinner Serving
On May 4th of 2018, Kids4Community volunteers gathered to serve dinner to the homeless clients housed at Interfaith Community Services shelter in Escondido. Everyone left the shelter with a smile on their face knowing that they had made an impact on the lives of the people at Interfaith. In the end, the volunteers raised over …
Read more
Donate
Kids4Community is a registered 501(c)(3) Tax Exempt charitable organization. All your donations to our non-profit organization are tax deductible. We are an organization run 100% by volunteers. We do not have any overhead or paid employees. All your donations will go to helping others with the help of other kids. Our primary goal is to help kids helping other kids in need such as homeless kids and families.

Thank you so much for your support.
DONATE ONLINE